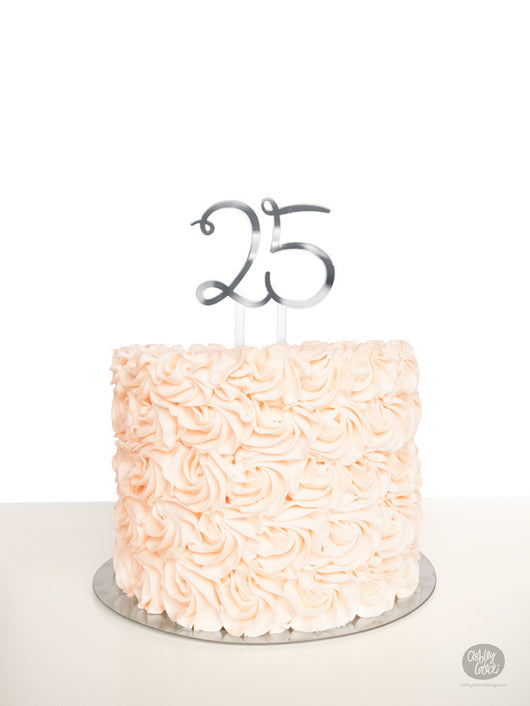 # 25 - Silver Cake Topper
Regular price $32.00 CAD Sale
This silver mirror twenty-five "25" cake topper is a special way to celebrate a Silver Wedding Anniversary or another exciting milestone! Created with laser assistance and hand finished in Canada using the artist's original lettering, this topper is reusable and can also be displayed as a keepsake to commemorate your special day.
This is a Stacked Topper design - it has a clear acrylic base and spikes, and then the lettering is repeated as an additional layer in silver mirror acrylic on top. This technique creates a unique and elegant presentation that has a lovely floating effect depending on how much of the spike you choose to show.

Size: Approx. 4" wide. Spikes are 0.25" wide and approx. 3" long from the lowest point of lettering/artwork.

Materials: This topper comes as a Stacked Topper in Acrylic - Silver Mirror.
Note:

Stacked toppers are one sided. The backing of the mirrored acrylic is grey and will be visible on the back side of the topper.
Processing Time: Cake toppers are generally made to order and each material requires different finishing methods. Although we always like to get things to you early, standard processing for this cake topper is 1-3 weeks (not including shipping time).
Disclaimer: By purchasing this item, you confirm that you have read and agree to the above information and to our Shop Policies, Privacy Policy, and Terms of Service. Thanks!